Recording studio desks made from reclaimed wood.  We can build wooden studio desks in a number of styles, from standard chunky desks to more elaborate music studio desks with monitor bridges, keyboard shelves, cupboards, drawers and 19″ racking as well as bespoke custom built units.  All our handmade desks can be tailored to your specifications.  
Click into the options below for more details: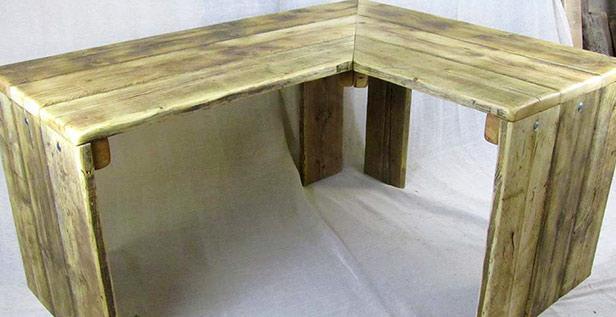 Other types of desk are available on our sister site: chunkyreclaimedfurniture.co.uk including corner desks, salon desks and reception desks
These desks have been sanded to a smooth finish and had several coats of Danish oil to protect and enhance the natural grain and signs of distress within the wood. Due to the history of the wood used in these desks, there are plenty of interesting splits and dents which add to the character of these desks. Where possible I have kept original features in the wood, reminders of its intended use and signs of its age. Being handmade and given the nature of their construction, each desk is unique.
The legs can be removed to transport/ store and are joined to the top section with large, heavy duty coach bolts which complement the look and feel of the wood.