Handmade computer desks, built from reclaimed wood.  Popular with recording studios and musicians who want a sturdy programming desk, these wooden desks are solid, full of character and will last a lifetime.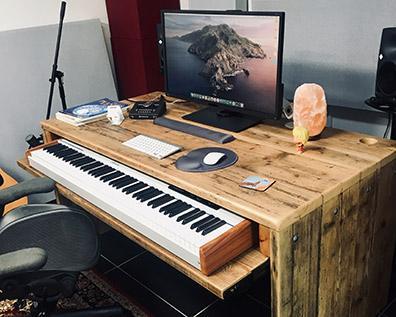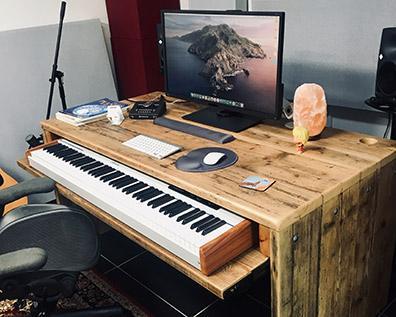 Computer desks

From £420 (Price includes VAT @ 20%)

Description
Chunky computer desks made from reclaimed wood – these desks are built to order based on your specifications.
The wood used in the desks is around 3.5cm thick, giving a very chunky appearance. The standard dimensions for these desks is typically 65cm deep and 75cm high, although this is very much up to you. The width is entirely your choice but tend to be between 80 – 180cm.
Dimensions
Typical height: 75cm
Typical depth: 65cm
Width: Your choice – see below
Price
Width between 80cm – 120cm: £420

(inc VAT)

Width between 121cm – 150cm: £470

(inc VAT)

Width between 151cm – 180cm: £505

(inc VAT)
Longer/ deeper desks available on request.
Optional extras
These wooden desks can be ordered with various optional extras, the most popular being a sliding keyboard shelf.  For these I use double extension ball-race drawer runners and reclaimed boards for the shelf itself. Optional extras include:
Keyboard shelf: £85

inc VAT

19″ racking in legs: £200

inc VAT

 (typically up to 13u in a standard height desk)
Cupboard: £290

inc VAT

Shelving: £240

inc VAT

(3 shelf spaces)
Drawers: £330

inc VAT

 (3 drawers)

Cable holes: £12 

 inc VAT

pair

Solid back: Depends on size of desk

19″ racking on/ built into the desktop: See

studio desks
Click into the gallery below for examples.