We produce a variety of different storage solutions for your studio that can be tailor made to house vinyl, CDs, reel to reel tapes, books or files.  All items made from reclaimed wood and to your specifications.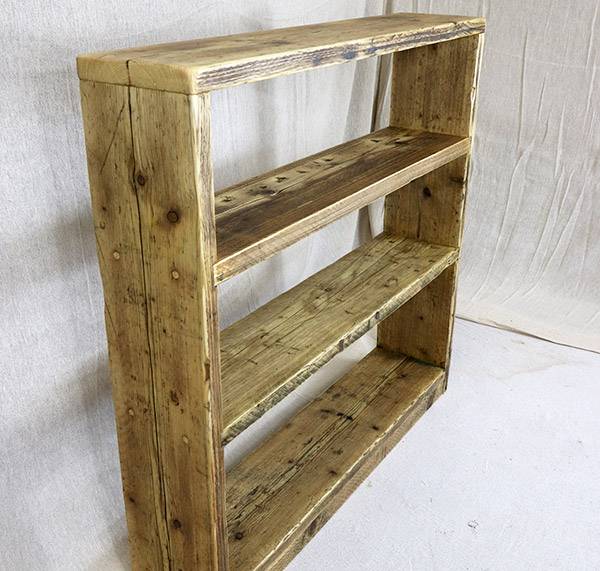 Reclaimed wood bookcases
From £230 (Price includes VAT @ 20%)

Description
Chunky pine bookcases made from reclaimed scaffold boards.  These can be made in a variety of different sizes, the most popular are shown below.  The bottom shelf has been raised off the floor on a low plinth (see photos), the middle shelves are routed into the uprights. 
The standard depth is around 21.5cm – as this is the depth of one board.  Deeper units can be built on request.
Dimensions
Height: 100cm
Length: 100cm
Depth: ~21.5cm 
Price
100cm x 100cm x 21.5cm: £230

(inc VAT)

160cm tall x 100cm wide: £290

(inc VAT)

Any other sizes available on request
Bespoke shelving units
Price dependent on size

Description
These made to measure shelving units are built from reclaimed scaffold boards and are designed to fit in a space of your choice. This type of unit would look great next to a fireplace, in an alcove or filling the entire wall of a studio. It could also be used as a room divider.
Available in any size, or shelf configuration.
Dimensions
As with the other bookcase units, the standard depth is around 21.5cm. Deeper units are possible but will impact on the price due to the extra joinery and wood involved.
Contact us with your requirements to get a quote for a bespoke unit of this type.
19″ rack storage solutions

£ dependent

Description
I can add a variety of storage solutions into 19″ rack units, either "off the shelf" metal products that I can order in, or wooden elements that I build in the workshop.
Examples include:
Wooden drawers
Fixed wooden shelves
Sliding wooden shelves
Doors
Metal "off the shelf" products such as metal rack doors, metal sliding shelves etc
If you have specific requirements for handles or hinges etc, please let me know as I can either make cut out handles or order in various items such as cup handles or handforged hinges.
Previous examples shown in photos. 
Reclaimed wood storage chest
£390 (Price includes VAT @ 20%)

Description
Storage chest made from 3.5cm thick reclaimed wood that can be used as somewhere to store mic stands, looms etc… Heavy and chunky, these can also double up as extra seating.
Dimensions
Height: 50cm
Width: 140cm
Depth: 43cm
Price
£390

(inc VAT)

based on the above dimensions
Individual shelves
£25/m (Price includes VAT @ 20%)

Description
Individual shelving made from 3.5cm thick reclaimed scaffold boards for you to fit yourself. The shelves are available at your chosen length. They have been sanded back and finished with smooth edges/ corners before being oiled. If you would prefer yours not to be oiled please let me know when ordering.
These work well in an alcove as well as on brackets on a wall.
Dimensions
Length: Your choice
Height: 3.5cm
Depth: ~21.5cm
Price
Price is shown per metre but these can be cut to whatever length you want.
Reclaimed wood CD rack
£ dependent

Description
CD rack made from reclaimed scaffold boards. The finished wood has had several coats of oil to protect it and bring out the grain and signs of its previous use.
Pictured is a 2 bay and 3 bay version.
Dimensions
Width: 36.5cm
Depth: 21cm
Height: 100cm
Price
This is a heavy duty unit that will last a lifetime.
I make these to order so if you have a particular size or configuration in mind then please contact us.S
These storage units have been sanded to a very smooth finish whilst leaving the interesting features in the wood intact, reminders of its previous use and signs of age. Unless specified they have had several coats of Danish oil to protect and enhance the natural grain and signs of distress.
If you want to commission or order a unit not listed, get in touch with your ideas.